AIF Infrastructure focuses on renewable energies and digital infrastructure
Long-time head of finance at EnBW Ingo Peter Voigt is co-founder and managing director
Megatrends of climate change, sustainability and resilience firmly in focus
Stuttgart, March 24th, 2022 – AIF Capital Group, a Stuttgart-based specialist in regulated alternative investment funds, is expanding its investment spectrum to include the segment of sustainable infrastructure investments with the establishment of AIF Infrastructure GmbH. The aim is to invest in the areas of renewable energies as well as digital infrastructures. To this end, AIF Capital has taken on a prominent partner with unique industry expertise in the form of Ingo Peter Voigt, former head of finance at EnBW, as co-founder and managing director.
To date, the AIF Capital Group has invested primarily in healthcare and social properties, parking garages and underground garages, as well as daycare centers. With the first investment in the residential asset class in 2021 and now the freshly launched AIF Infrastructure, the group is expanding its investment and product range to include sustainable and promising meta-topics. With the foundation, AIF Capital Group establishes the new business area for investments in renewable energies such as wind onshore and photovoltaic ground-mounted systems as well as digital infrastructure in order to make these segments accessible to institutional investors as an investment opportunity.
Co-founder Ingo Peter Voigt serves as managing director of AIF Infrastructure GmbH. The 54-year-old previously worked for EnBW Energie Baden-Württemberg AG for more than 20 years. Most recently, as Senior Vice President, Head of Finance, M&A and Investor Relations, he was responsible, among other things, for the acquisition and financing as well as the management of projects in the fields of renewable energies and digital infrastructure.
The aim of AIF Infrastructure is to offer investments in sustainable and digital infrastructure, thus focusing on the issues of climate change, sustainability and resilience. To this end, the new company intends to build up a portfolio of focused thematic funds in the area of sustainable infrastructure within the next few years. This includes the first thematic fund, a special fund in the area of wind onshore, in which up to 20 wind onshore parks will be bundled.
The unique selling point of AIF Infrastructure is the establishment of long-term cooperations with operators experienced in the industry. For the acquisition, construction and operation of the wind farms, an exclusive partnership has been agreed with a developer, general contractor and operator with a proven track record in this type of project.
Ingo Peter Voigt, co-founder and managing director of AIF Infrastructure: "The current global and societal megatrends of climate change, sustainability and resilience are creating an immense need for investment in the field of sustainable infrastructures. This also has something to do with social responsibility for the way we want to live in the future, namely in a way that is generation-appropriate, sustainable, and conserves resources. With AIF Infrastructure, we strive to profitably combine ecological and economic perspectives."
Mario Caroli, Managing Director of AIF Capital Group and also a founding partner of AIF Infrastructure, says: "AIF Group has deliberately expanded its product range to include the sustainable infrastructure segment, opening up an asset class to institutional investors that represents an attractive addition to their investment portfolio. We believe that with the start-up we are creating a unique combination of regulatory, management, structuring, financing and operating expertise that is second to none. Given regulatory changes from ESG criteria and the EU taxonomy, as well as geopolitical and fiscal uncertainties, we believe investments in infrastructure assets are attractive."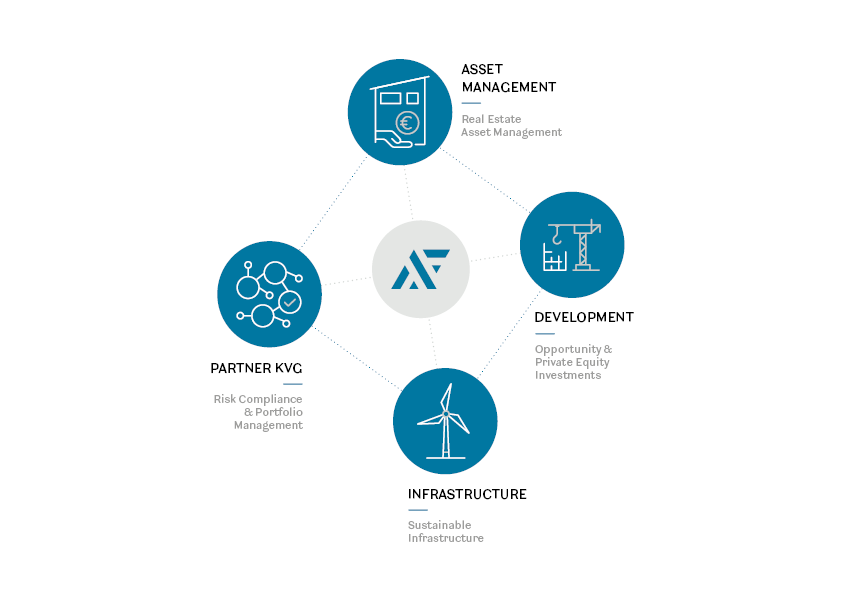 About AIF Capital Group
AIF Capital Group is a real estate manager and specialist in regulated alternative investment funds for institutional investors. As investor, trustee, KVG with BaFin license and asset manager, the company offers investors high-yield and sustainable real estate investments. The company is a member of the ECORE and ICG sustainability initiatives and is a signatory of the UN PRI. The group of companies was founded in 2006 in the private bank Ellwanger & Geiger and was fully acquired in 2017 as part of a management buyout. The company pursues the goal of making classic real estate asset management innovative and dynamic, while offering a high quality of service. The group employs 43 people, has equity of 5.6 million euros and currently manages assets (AUM) worth around € 1 Billion.