Inner cities are facing major structural changes that are increasingly challenging the space of private motorized transport in public spaces. The private passenger vehicle (passenger car) as a transportation medium is giving away to alternative forms of mobility, such as bicycle paths, which are increasingly being prioritized in terms of urban development. Medium-sized asset manager and trustee AIF Capital Group and systems construction specialist Goldbeck have extensive experience with parking garages and know how they can become enablers of the urban mobility revolution. "Parking garages need to evolve from functional one-way streets for cars to transformable mobility hubs," says Tilo Staudenmaier Senior Investment Manager at AIF Capital. "When these are made accessible to long-term institutional investors, we'll have taken a big step forward."
Parking area design has a significant impact on the quality of life and the environment
More and more cities and municipalities are planning to restrict or even completely ban motorized private transport from city centers in the mid-term. Examples can be found in Europe's metropolises from Madrid to London, Paris and Stockholm – but also in Germany, such as Münster or Cologne. People looking for a parking space are responsible for 30 to 40 percent of the total traffic in the city center alone. Drivers have to travel an average of 4.5 kilometers in ten minutes. Around 70 percent of the 160 million parking spaces in Germany are accounted for by "on-street parking" (ADAC) – which is equivalent to an area about six times the size of the city of Stuttgart (1,288 km²).
"How we design parking space in our cities has a significant impact on the quality of life and the environment," says Tilo Staudenmaier. "Here, the potential goes far beyond simply linking different forms of mobility. We need to combine economic with ecological and social aspects to transform the parking garage from an aesthetic nuisance in urban architecture into a component of the traffic revolution." Green facades reduce particulate pollution and sequester carbon dioxide (1 m² sequesters 2.3 kg of CO2 and produces 1.7 kg of oxygen per year). Complementary uses such as a playground or sports field on the roof make the properties part of the neighborhood, and photovoltaic installations provide energy for e-mobility directly on site. Digital technologies can also make availability determination efficient and the payment process contactless. Beyond these measures, there are other exciting pilot projects: "Goldbeck is researching with Braunschweig Technical University and other partners as part of the SynCoPark project to automate parking areas and use them for logistics services during periods of low occupancy," says Thomas Zahn, sales engineer at Goldbeck.
Making sustainable parking garages investable
"We help private and municipal owners and operators create long-term sustainability for existing and new parking garages," says Tilo Staudenmaier of AIF Capital. In its portfolio, AIF Capital Group manages 22 parking properties with a volume of around euros 240 million in Germany and other European countries. For the open-ended special alternative investment fund (AIF) "Parkhausfonds Europa", the company exclusively acquires properties for regulated institutional investors that are relevant to the mobility transformation in inner cities. Together with Goldbeck, whose experience includes more than 1,000 parking garage projects in Germany and Europe, the company is planning further projects. Currently, the collaboration is resulting in the 90 percent recyclable parking garage at the municipal hospital in Braunschweig with 1,300 car and 300 bicycle parking spaces. In addition to a wild bee and insect habitat on the roof and green facades, the property has special fixed rates for clinic staff, volunteers, students and employees of social institutions, as well as energy-efficient LED lighting systems. Further joint projects are in the pipeline.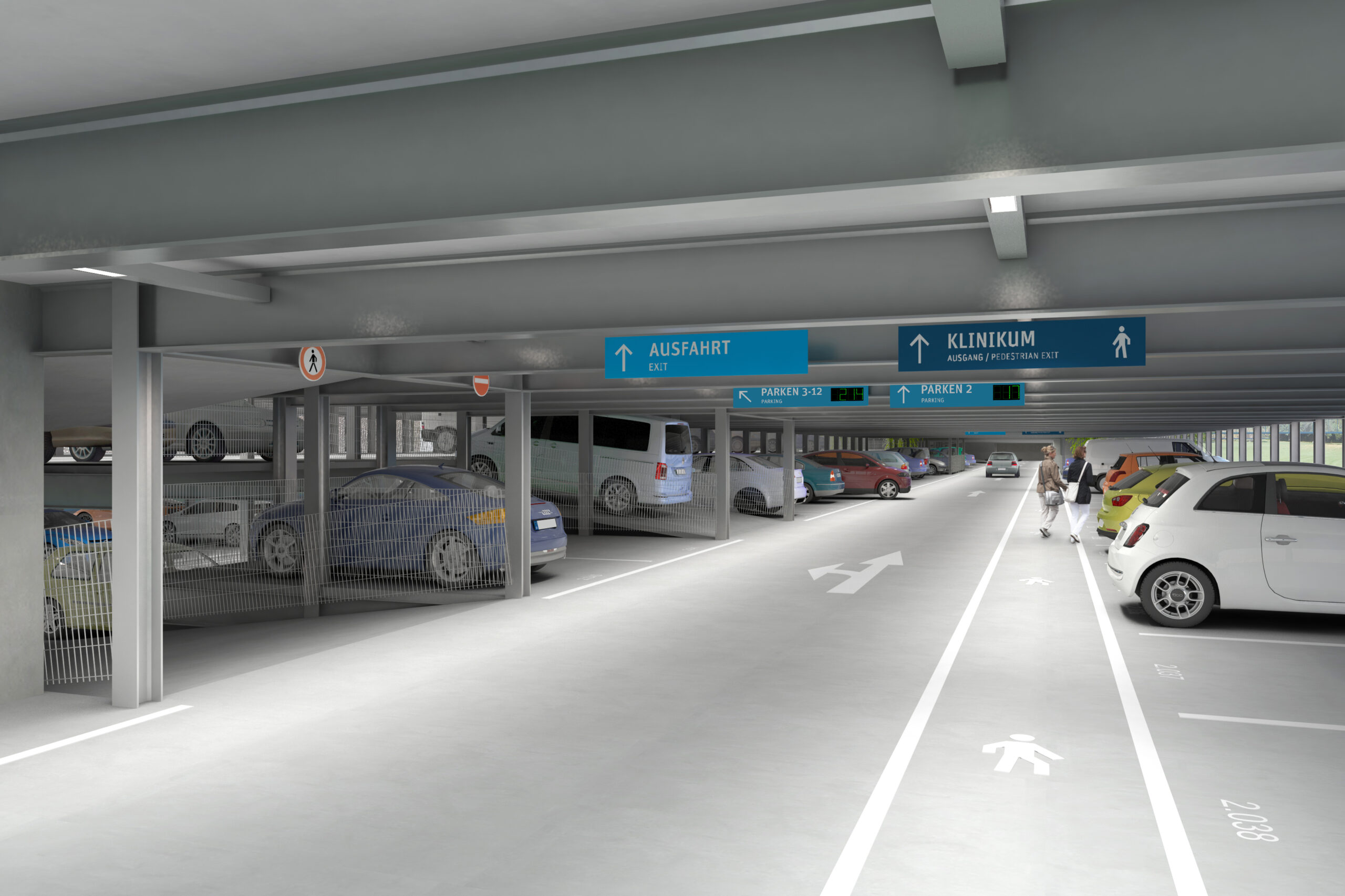 About Goldbeck
Goldbeck builds commercial real estate in Europe and understand buildings as products that are realized from a single source: from design and construction to services during operation.
Goldbeck is a partner for medium-sized businesses and large companies, investors, project developers and public-sector clients. The range of services includes logistics and industrial halls, offices and school buildings, parking garages and residential buildings. Constructions in existing buildings and building-related services complete the scope of services. The company completed more than 500 projects in fiscal year 2019/2020 with a total output of around EUR 3.5 billion. Goldbeck currently employs more than 7,800 people at over 70 locations throughout Europe.
About AIF Capital Group
AIF Capital Group is expert in regulated alternative investment funds. The group acts as investor, BaFin-licensed fund manager and asset manager to facilitate high-yielding property investment opportunities for institutional investors. The company was founded in 2006 as a subsidiary of Bankhaus Ellwanger & Geiger in Stuttgart. In 2017, Mario Caroli and Ralf Schlautmann assumed full control of the company via a management buy-out. Since then, the group has been striving to make classical asset management more innovative and dynamic while offering an outstanding quality of service. AIF Capital currently employs about 35 specialists, has own equity of about EUR 5.6 million and manages assets with a total volume of around EUR 1 billion.