Stuttgart, 10. August 2021 – Environmental awareness, social responsibility and sustainability in general are becoming increasingly important in the financial and real estate industry. The AIF Capital Group does not want to meet a minimum standard in this respect, but wants to go further and therefore decided to become a member of the ICG (Institute for corporate governance in the german real estate industry). The ICG focuses on corporate governance and wants to establish sustainable and value-oriented standards in the German real estate industry within this framework.
In this context, AIF Capital not only wants to comply with the guidelines for sustainable corporate governance, as Dr. Sven Eggers, CEO of AIF Partner KVG, explains: "The ESG criteria guide us in our work as real estate managers and fund specialists as well as in decisions and our behavior within our companies itself. That's why we also want to actively participate in ICG and have already joined the KVG Initiative working group." Here, Dr. Eggers has participated as a personal member so far. The working group received attention in April 2021 when it published a guideline on corporate governance for supervisory boards and investment committees of real estate capital management companies and demanded more diversity and transparency.
Complementing the ICG, the international Principles for Responsible Investment (PRI) focus on sustainable investments overall. AIF Capital recently signed the PRI, officially committing to value-based investments according to environmental social governance (ESG) criteria. The initiative aims to ensure that the financial industry makes sustainable decisions and that its actions have a positive impact on the environment and society. By signing the PRI, AIF Capital also commits to publishing an annual report on its sustainable investments in a publicly available format. Dr. Eggers cites the reason for this as follows: "We want to show our investors by being transparent that they are making future-oriented and responsible investments with us. That's why we deliberately chose the PRI initiative."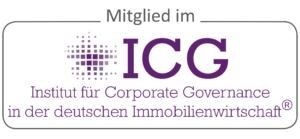 About ICG (Institute for Corporate Governance in the German Real Estate Industry)
The ICG sees itself as a think-and-do tank. Founded in the fall of 2002, it aims to improve the German real estate industry's competitive edge by developing, implementing and enforcing standards for sustainable, value-oriented corporate governance. Through guidelines and seminars, future and current supervisory and advisory boards are to be provided with the necessary know-how for responsible, successful action.
About PRI (Principles for Responsible Investment)
The PRI is the world's leading initiative for responsible investment. It helps investors worldwide understand and consider the impact of investments on environmental, social and governance (ESG) factors. The initiative is completely independent and non-profit.
About AIF Capital Group
AIF Capital Group are experts for regulated alternative investment funds. The group acts as investor, BaFin-licensed trustee and asset manager to facilitate high-yielding property investment opportunities for institutional investors. The company is a member of the ECORE and ICG sustainability initiatives and is a signatory of the UN PRI The group was founded in 2006 as a subsidiary of Bankhaus Ellwanger & Geiger in Stuttgart. In 2017, Mario Caroli and Ralf Schlautmann assumed full control of the company via a management buy-out. Since then, the group has been striving to make classical asset management more innovative and dynamic while offering an outstanding quality of service. AIF Capital currently employs 43 specialists, has own equity of € 5.6 million and manages assets with a total volume of around € 1 billion.