Stuttgart, 01. June 2021 – The initiative for sustainability ECORE (ESG Circle of Real Estate) is currently working on a standardized ESG scoring model for the real estate market. From now on, AIF Capital Group will also participate in this project.
The AIF specialist brings suitable expertise to the initiative, as the Stuttgart-based company has already been using its own ESG scoring and analysis tool for its assets for some time.
The idea behind the ECORE initiative and its scoring model is a unified analysis standard in the real estate sector that takes into account not only ESG (Environmental Social Governance) criteria, but also the current taxonomy criteria and the goals of the Paris Climate Agreement. Currently, the model is still in the pilot stage: In addition to collecting data, the members of the initiative are elaborating the factors for the different asset classes.
AIF Capital Group is now contributing its experience to this process, as Dr. Sven Eggers, CEO of AIF Partner KVG (capital management company of AIF Capital Group) explains: "For our in-house scoring model, we have already successfully extended and significantly enhanced a conventional, universal ESG analysis with special criteria, such as accessibility, proximity to schools and the mix of apartment types to appeal to tenants in different phases of life." This is the only way to realistically assess properties in detail with regard to ESG. The Stuttgart-based AIF specialist is involved in the initiative's "Expert Committee on Housing" and in the future also in the "Expert Committee on Healthcare and Nursing Properties", which is currently being formed.
With ECORE's model, it should be possible to better compare assets and portfolios across providers in the future. A necessary step for more transparency, also thinks Dr. Eggers: "The AIF Capital Group has joined the initiative because we consider it important and meaningful that providers report their products with the substantially same basis. This creates fair conditions and gives investors a better overview."
However, due to the diversity of the real estate market, sustainability factors can differ greatly between asset classes. For this reason, additional criteria continue to be necessary for niche products in order to assess a property in the best possible way, adds Dr. Eggers: "Sustainability is a complex interplay of many characteristics that can also influence each other – and these obviously are different for a daycare center than for a parking garage." For this reason, the AIF Capital Group will go beyond the ECORE model – where necessary – and also rely on its own criteria in order to meet the special requirements of niche assets, for example.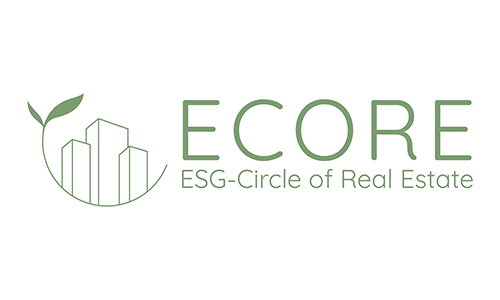 About ECORE
Founded in 2020, the ECORE initiative advocates for a sustainable real estate industry. Its more than 80 members include well-known German and European investment houses and project developers. They are committed to making a significant contribution to preventing the negative impact of the greenhouse effect. At the core of the initiative is a new ESG scoring model, which parts of the members are currently developing together and which is intended to ensure transparency across providers.
About AIF Capital Group
AIF Capital Group are experts for regulated alternative investment funds. The group acts as investor, BaFin-licensed trustee and asset manager to facilitate high-yielding property investment opportunities for institutional investors. The company is a member of the ECORE and ICG sustainability initiatives and is a signatory of the UN PRI The group was founded in 2006 as a subsidiary of Bankhaus Ellwanger & Geiger in Stuttgart. In 2017, Mario Caroli and Ralf Schlautmann assumed full control of the company via a management buy-out. Since then, the group has been striving to make classical asset management more innovative and dynamic while offering an outstanding quality of service. AIF Capital currently employs 40 specialists, has own equity of € 5.6 million and manages assets with a total volume of around € 1 billion.