1,300 parking spaces and blooming wild bee meadows in the new multi-storey car park at the Municipal Hospital in Brunswick
AIF Capital and car park developer Goldbeck integrate different forms of mobility in the energy-efficient and recyclable property.
Stuttgart/Braunschweig, 02. März 2021 – AIF Capital expands its Car Parking Fund Europe and invests about € 20 million in the property at the municipal hospital in Brunswick. The new building will be the largest off-street parking facility in all of Brunswick, combining ecological and social compatibility with long-term economic viability. The 1,300 car and 300 bicycle parking spaces are managed by Europe's largest car park operator APOCA on a long-term basis of 15 years . Electromobility is firmly integrated into the new building with up to 130 charging stations (initially 30, including six fast-charging stations with 120 kilowatts) and 100 charging points for e-bikes. The largely recyclable construction, the energy-efficient LED lighting concept and the emerging green spaces make the property a sustainable asset for the open-ended special alternative investment fund (AIF) Car Parking Fund Europe. The car park developer Goldbeck expects to complete the project in the third quarter of 2021.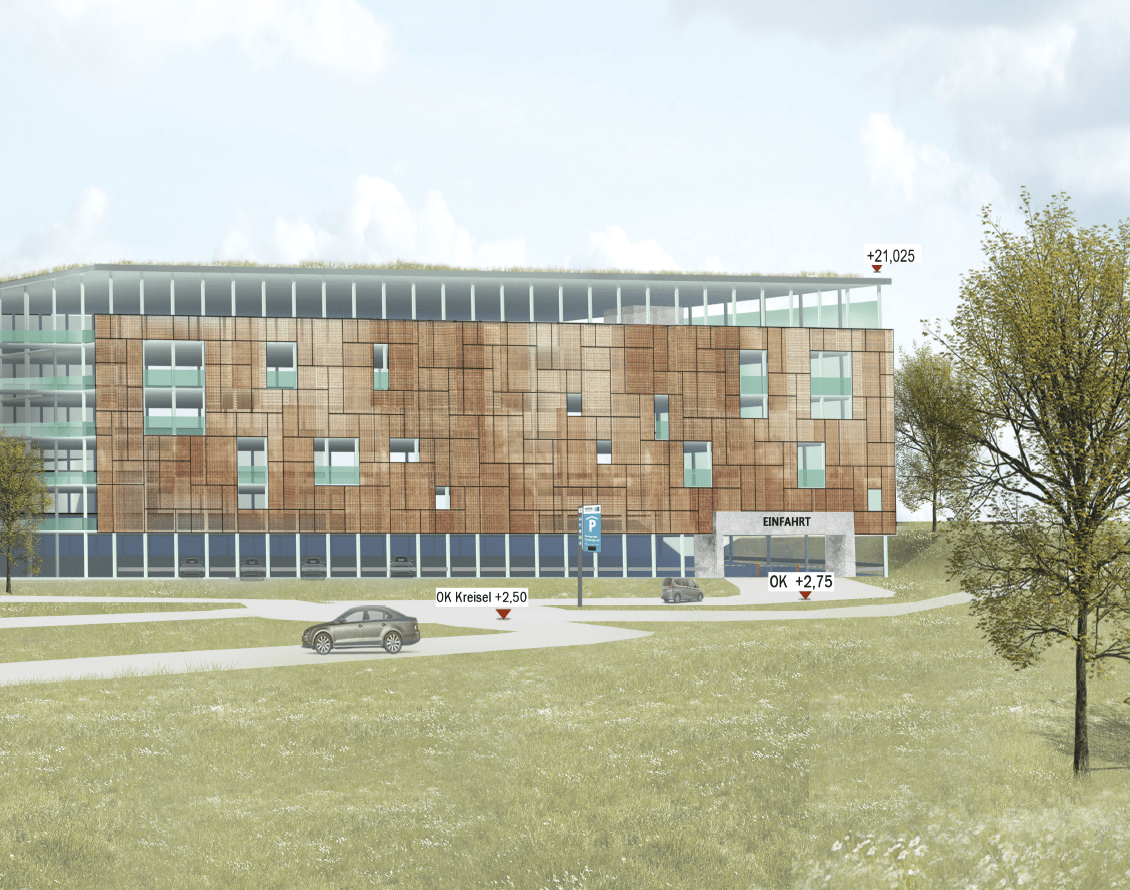 "The multi-story car park at the Brunswick Municipal Hospital is a genuine reference project and shows our investors how parking spaces can be designed in an ecologically, socially and economically sustainable way," says Tilo Staudenmaier, Senior Investment Manager at AIF Capital, about the property. "We are proud of such an innovative and sustainable project and look forward to many more with AIF Capital," commented Thomas Zahn, Sales Engineer at Goldbeck, assessing the cooperation. The contemporary design was provided from the renowned architectural company Decker, which blends effortlessly with the design of the hospital.

Parking garage at the municipal hospital is built according to a comprehensive sustainability concept
The parking garage in Brunswick is an exceptional socially and ecologically compatible property (ESG AIF Capital). Even the construction phase saves 1,650 truck arrivals and departures by integrating the building into the site topography. Approximately 90 percent of the building materials are recyclable and easily deconstructed. An LED lighting concept and large transparent elements made of recycled glass support energy-efficient operation. The automatically irrigated wild bee habitat on the roof was created in cooperation with the Julius Kühn Institute and provides insects with further habitats in addition to the green facade. Special tariffs were agreed for clinic staff, volunteers, students and employees of social institutions, and the traffic routing integrates the building into the existing mobility mix at the municipal clinic.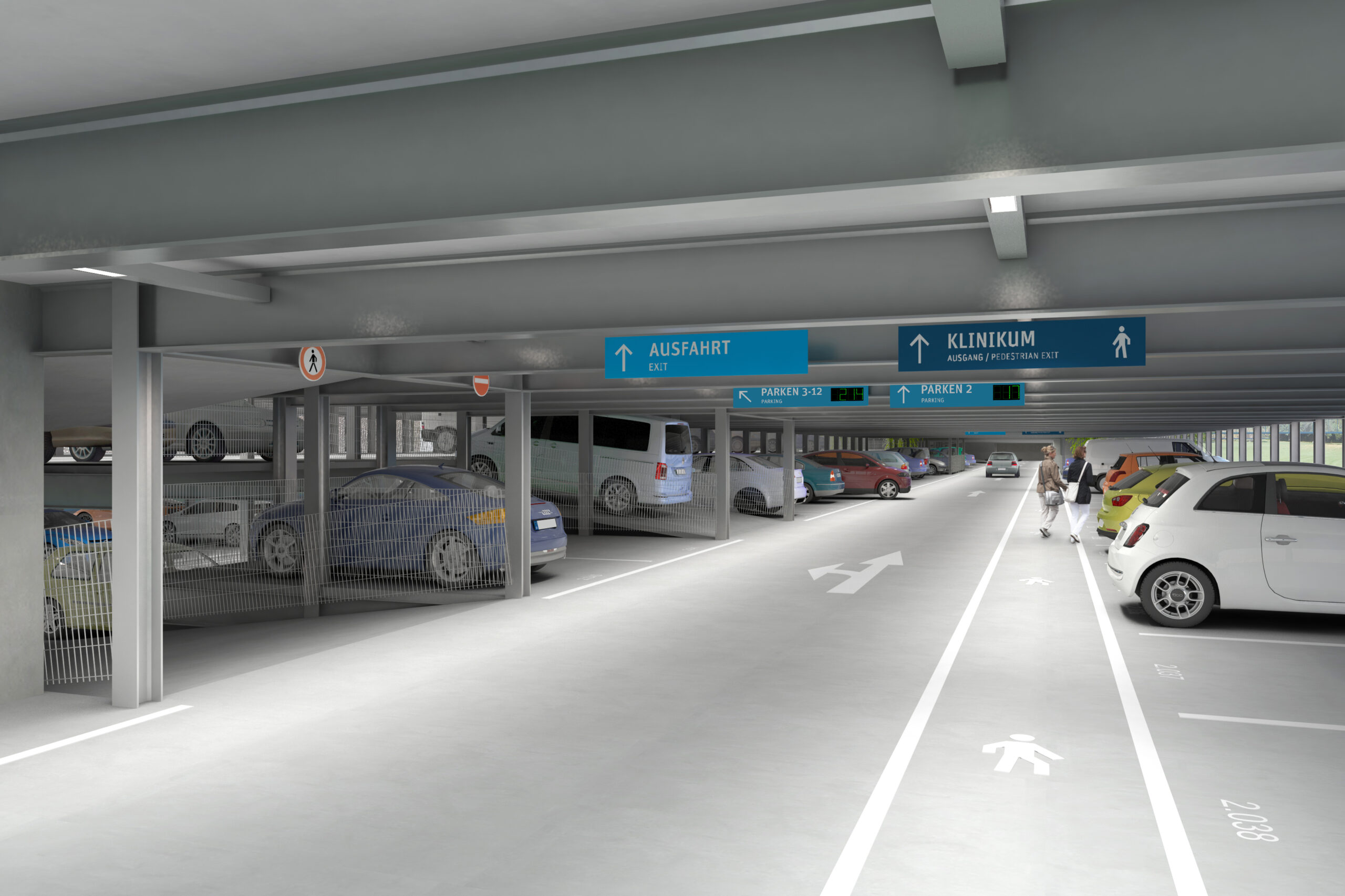 The Parking Garage Fund Europe offers institutional investors sustainable returns
T As mobility habits are changing and new sustainability goals are set in city centers so too are the requirements of parking garages in central locations. AIF is therefore acquiring properties for its Car Parking Fund Europe focusing  exclusively on those that enable and benefit from this change. Most recently, the fund acquired properties in Venlo, Rotterdam and Turin. Until 2030, the fund is expected to generate an ongoing attractive distribution of more than five percent annually. Further acquisitions and new developments are planned for the open-ended special AIF with a current volume of EUR 105 million.
About Goldbeck
Goldbeck builds commercial real estate in Europe and considers buildings as products that are realized from a single source: from design and construction to services during operation.
Goldbeck is a partner for medium-sized businesses and large companies, investors, project developers and public-sector clients. The range of services includes logistics and industrial halls, office and school buildings, parking garages and residential buildings. Construction in existing buildings and building-related services complete the spectrum. The company completed more than 500 projects in fiscal year 2019/2020 with a total output of around € 3.5 billion. Goldbeck currently employs more than 7,800 people at over 70 locations throughout Europe.
About AIF Capital Group
AIF Capital Group are experts for regulated alternative investment funds. The group acts as investor, BaFin-licensed trustee and asset manager to facilitate high-yielding property investment opportunities for institutional investors. The company was founded in 2006 as a subsidiary of Bankhaus Ellwanger & Geiger in Stuttgart. In 2017, Mario Caroli and Ralf Schlautmann assumed full control of the company via a management buy-out. Since then, the group has been striving to make classical asset management more innovative and dynamic while offering an outstanding quality of service. AIF Capital currently employs 35 specialists, has own equity of € 5.6 million and manages assets with a total volume of around € 1 billion.